UPDATE – 17th May 2021
Dear Residents, Families & Friends,
Resident visiting update in line with the easing of Government restrictions from 17th May 2021
In line with the easing of restrictions from 17th May 2021, we thought it would be helpful to remind our resident's families and friends of our updated visitor policy.
Residents may now designate up to 5 people to be their 'designated' visitors.
The number of people who can visit is limited to 2 designated visitors per day and they can either come individually or together.
The designated visitors can be any person of school age or above, although the care home needs to be confident that social distancing can be understood and adhered to for any visitor under the age of 18.
We currently have three types of visits allowed under current Government regulations:
Internal contact visits for designated visitors only within our internal visiting lounge, following with a negative rapid test result on the day of the visit and PPE to be worn during the visit.
Pod visits without the need for a rapid test, in either our external Gazebo pod(s) (with safe distancing of minimum of 2 metres and face masks to be worn at all time or internal screened pods, where face masks can be removed within the screened pod only. These pod visits can be for other family and friends who are not necessarily on the 'designated' visitor list.
Outside of care home visits where residents may be taken by a designation visitor away from the care home site without the need for self-isolation on return:

to spend time outdoors
to take part in outdoor exercise not involving close contact with others
Medical appointment
Residents at present are not allowed to go into families homes or other internal visits such as cafes or other hospitality venues.
Additional requirements for outside of care home visits:
Decisions about an individual resident's visits outside of a care home, have to be taken by the provider on an individual-by-individual basis with the resident's assessed needs and circumstances considered, so that we can balance the benefits of visits out of the care home against a consideration of the risks to others in the home, where necessary.
The designated visitor(s) will need to have a negative rapid test result on the day of the visit.
Before residents leave the home, we will consider the following:
whether a subsequent 14-day self-isolation is necessary.
the support needs that the resident may have during the visit, and whether the resident will need to be accompanied by a staff member, carer, family member or friend.
the vaccination status of the residents and the likely vaccination status of those in the setting they are visiting.
how the resident will be supported to follow good infection control practice including social distancing, hand hygiene and face coverings – and whether the resident's needs are likely to impact their ability to do so.
transport for the visit, which should avoid exposing the resident to those outside the household they are visiting, for instance by travelling in a family car or private taxi. Public transport should be avoided.
All visits, whatever the type chosen above, need to be pre-booked with us to ensure we can be prepared for the visit and have completed any necessary procedures.
We hope you agree that every relaxation of the visiting rules is a positive step, but understand we still need to be cautious to protect the vulnerable people within our care.
We are pleased to confirm that we now arranging external entertainers (singers & musicians) to visit the home for outdoor concerts. At present, these activities will only be for the benefit of the residents within our village, but we hope in time, as infection rates continue to fall and vaccination numbers increase, that we can again invite families and friends to enjoy these events with us.
Our coffee shop has opened with effect from today, 17th May and we look forward to welcoming you all back. At this time, due to social distancing requirements for care home residents, it will not be possible for care home residents to visit the coffee shop. However, should their designated visitor wish to order a takeaway from the coffee shop we could accommodate this being enjoyed in our Gazebo visitor pod in line with our visiting policy above.
Please can we remind all visitors to the coffee shop that you are not allowed at this present time to walk around the grounds and that face masks must be worn at all times whilst on care home premises or within the grounds.
We thank you as always for your continued support and understanding and if anyone has any queries or concerns, please do not hesitate to contact us.
Kind regards
Directors and Management of Carlton Hall Residential Home & Village
---
UPDATE – 26th February 2021
Dear Resident and Families,
Following the latest update to the visiting guidelines from the Government, we have reviewed our procedures and are happy to advise that with effect from Tuesday 9th March we will be resuming our screened pod visits and will also enable some close contact visits within the new visitor lounge in the Orangery.
This is great news for our residents who we know will be looking forward to your visits.
Whilst infection levels are falling, this virus has not gone away, so there are strict guidelines we must adhere to and we ask for your kind co-operation, as always.
We have outlined the requirements below:
At present, each resident may only have one visitor from their family, and this person needs to remain constant. Please can we therefore ask you to discuss this with your family to see who is best to undertake this role and let us know as soon as possible by email. (If the regulations relax to allow more family members, we will of course let you know). At present we cannot accommodate pets.
The visiting family member will need to arrive 30 mins before the scheduled visit to complete a lateral flow test, which will be carried out within your vehicle.
There will be two car visiting spaces outside the front of the Orangery marked and reserved for these pods visits only, and where we ask you to wait for your test to be done and for the results to be given.
As the care village is currently not open to visitors other than pre-booked pod visits, on your first visit you will be given a colour card to be displayed in your front windscreen which we then ask you to keep for future visits. This will clearly show any member of staff that you are on a scheduled pod visit.
Unfortunately, you will not be allowed to walk around the grounds or car park while you are waiting for the test or the test result.
When a negative test result is achieved, we will collect you from your car and take you into the orangery reception to sign in, be temperature checked, and then shown to the pod that has been reserved for you.
You will be given the appropriate PPE, face mask if visit is within a screened pod or full PPE, if the visit is within the internal visiting lounge.
If a positive test result is received, you will be advised and asked to leave the premises and you will need to self-isolate for 10 days. You would not be allowed back to visit for a minimum of 14 days or until any symptoms have passed. Your details will be passed to the track & trace services who will contact you accordingly.
Initially, we will prioritise the internal lounge visits to those residents that are unable to make use of the screened pods, so please bear with us as we try and facilitate as many visits as we can manage.
There will be no visits on a Monday as this is our whole home testing day so visits cannot be accommodated due to the number of staff and dedicated contractors that will need to visit the premises to be Covid tested, as per the requirements under the current Government guidelines.
At present, we are unable to accommodate visits on Sunday's as we do not have reception staff available due to current shielding guidelines.
Wendy, our receptionist will contact, by email, the family member nominated to book these visits. Please can we ask that wherever possible, you contact Wendy by email to request or amend visits as we try to keep the telephone as a priority for relatives ringing to speak to their residents or professionals ringing to discuss resident requirements. Our email address is: office@carltonhall.co.uk
The visitor pods will be cleaned in between each visit to ensure the highest level of infection control. We ask that if you bring items in for you relative, they must be left in the delivery zone in front of the Orangery, to enable us to clean with viricidal cleaner before being brought into the home. Items cannot be taken into the visitor pod.
Please be aware that due to the number of visits we are trying to accommodate, if you are late arriving, this will deducted from the amount of time you will have with your relative as unfortunately we will not have any leeway to extend your visit.
We thank you in advance for your co-operation with the above procedures and look forward to welcoming you back to our care home.
Yours sincerely
Management and Directors
Carlton Hall Residential Home.
---
UPDATE – 4th November 2020
Dear resident and families,
Due to the Governments weekend announcement regarding COVID-19 Lockdown, everyone will be expected to follow the new Government rules as from midnight Wednesday, 4th November until 2nd Dec 2020.
We have drawn up some brief notes from the Government guidelines to help our residents and families understand the new rules which we have attached to this letter, for information – 'What the new Government guidelines means and how they will affect you'.
The Care Home association has been lobbying the Government to allow visits to care homes during this period to maintain the well-being of our residents and I am pleased to say that the Government are now allowing care home visits on the proviso that the care homes can provide Covid secure visiting areas.
We had already set up purpose-built secure visiting pods and I am delighted to confirm that these comply with the Government new guidelines for visits during the lockdown period. We will therefore re-open our pod visiting facilities on Monday 9th November to ensure our residents get the most contact with their families and friends during these difficult times.
Each visitor will be directed to the visiting pod in the area of the home in which their relative lives, so that we can minimise the risk of cross infection between areas of the home.
Please contact receptionist Wendy or your Activities team member to arrange a suitable time to visit. We are initially booking one visit per family per week but if there are any vacant slots then residents can have more visits when available.
When arriving on site, please ensure that you are wearing a face mask as soon as you enter the grounds including the car park and walking to the pod.
Please ring reception to advise of your arrival and you will be directed to the appropriate pod. Please do not come into the reception itself as no access is allowed into the home. In between each pod visit, the surfaces are cleaned so please can we ask you not go to the pod until you are advised to do so.
Residents will not be in isolation during this period of lockdown and we will scale up activities within the home as much as possible to keep their spirits up and this will also include the continuation of voice and video calls to families. If anyone has any preference on call times or is eager to pre- arrange their regular call, please contact reception 01502 513208.
The Olive Tree coffee shop within the grounds is now closed but we are looking to offer an order and collect service and details of these will follow shortly.
If for any reason the home or part of the home has to go into isolation due to a suspected or actual positive Covid test of a resident or staff member then these pod visits may need to be suspended accordingly. We continue to test all staff weekly and residents monthly.
This will be another difficult time for residents, their families, and staff but with your continued support, we will make this time as safe and enjoyable as possible.
Your continued help with this is very much appreciated.
If anyone has any questions or concerns regarding this letter than as always, please feel free to contact us.
Kind regards, Directors and Management, Carlton Hall
What the new Government guidelines means and how they will affect you.
Going outside. You should minimise time spent outside your home and when around other people. Ensure that you are two metres apart from anyone not in your household or support bubble.
You can exercise outdoors or visit an outdoor public place – with the people you live with, with your support bubble or, when on your own, with 1 person from another household.
To can leave your home to attend any medical appointment and to go shopping for basic necessities, for example food and medicine, which should be as infrequent as possible.
Who can make a support bubble? If you live by yourself – even if carers visit you to provide support, you can form a support bubble with another household of any size who is not part of a support bubble with anyone else. If you live with other adults, even if carers visit you to provide support, you can form a support bubble with one single-adult household who are not part of a support bubble with anyone else. The government recommends that you form a support bubble with a household that lives locally wherever possible.
Meeting with family and friends. You must not meet socially indoors with family or friends unless they are part of your household – meaning the people you live with – or your support bubble.
Weddings, civil partnerships, religious services, and funerals. Funerals can be attended by a maximum of 30 people, and it is advised that only close friends and family attend. Linked ceremonial events such as stone settings and ash scatterings can also continue with up to 15 people in attendance. Social distancing should be maintained between people who do not live together or share a support bubble.
Weddings, civil partnership ceremonies will not be permitted to take place except in exceptional circumstances.
Places of Worship will be closed, unless they are being used for:
Funerals
To broadcast acts of worship
Individual prayer
Formal childcare or where part of a school
Essential voluntary and public services, such as blood donation or food
Travel. You should avoid travelling in or out of your local area, and you should look to reduce the number of journeys you make. If you need to travel the government encourage you to walk where possible, and to plan ahead and avoid busy times and routes on public transport. This will allow you to practise social distancing while you travel.
Overnight stays and holidays away from primary residences will not be allowed. This includes holidays abroad and in the UK. It also means you cannot stay in a second home, if you own one.
You must not travel if you are experiencing any coronavirus symptoms, are self-isolating as a result of coronavirus symptoms, are sharing a household or support bubble with somebody with symptoms, or have been told to self-isolate after being contacted by NHS Track and Trace.
Protecting people more at risk from coronavirus. If you are over 60 or clinically vulnerable, you could be at higher risk of severe illness from coronavirus. You should be especially careful to follow the rules and minimise your contacts with others, you should continue to wash your hands carefully and more frequently than usual and maintain thorough cleaning of frequently touched areas in your home.
---
UPDATE – 2nd November 2020
Dear resident,
Due to the Governments weekend announcement regarding COVID-19 Lockdown, everyone will be expected to follow the new Government rules as from mid-night this Wednesday, 4th November until 2nd Dec 2020.
I have tried to identify the areas of change that will affect you directly and given an explanation as briefly as I can. I have attached this in a memo entitled 'What the new Government guidelines means and how they will affect you'.
In line with these guidelines, we would suggest that all residents living at Carlton Hall Gardens take the opportunity to form a support bubble with an appropriate friend or family member, so they can maintain contact with other people. This will enable them to have someone to talk to, discuss their concerns and receive support including being able to visit each other within your own homes.
We have a duty of care to safe guard all the residents who live at Carlton Hall and in view of these latest temporary restrictions, we will need to monitor who is entering the village, know why they are here, who they are planning to visit and ensure they follow the Government and Carlton Hall rules.
We will not be locking the gates during this period, (other than the standard night-time closure from 10pm to 7am) so you will have free access to come and go accordingly to the Government guidelines.
To enable Carlton Hall to monitor the visitors, we request all residents who plan to have people coming into the village because they have formed a support bubble with someone outside, to please advise us before lockdown restrictions come into place. If any bungalow resident decides instead to form a support bubble with another bungalow resident, then again please advise us accordingly.
We will be conducting spot checks on visitors on site to ensure that they have permission to enter the site from our support bubble document so please can I ask that this information is provided to Darren by 5pm on Wednesday to ensure this is in place in time for the gates opening on Thursday morning.
Your help with this is very much appreciated.
If anyone has any questions or concerns regarding this memo, please let a bungalow carer know and they will do their best to offer their support.
Kind regards, Darren Horn,
Bungalow Care Manager
---
UPDATE – 21st September 2020
Dear Family and Friends
Good afternoon friends and families
Just a little update on how life is at Carlton Hall at the moment.
You might have heard on the news that Care Homes were not getting Covid test kits in quick enough to keep up with our testing. After a short break due to lack of tests, we are happy to report that these are now coming through and we are able to resume weekly testing of the staff team and monthly testing of residents.
Two weeks ago, we did unfortunately, have a positive test for a staff member and as a result had to put the care home into immediate lockdown until we could retest. The good news is that we tested all residents and staff again and I am very pleased to report that again we have a full house of negative results. The staff member was asymptomatic which is also good news and has returned to work after her isolation period.
We are always mindful we are heading into the autumn and winter where we are possibly heading for a second spike in Covid. We are reminding all staff about being extra vigilant in wearing PPE and washing hands as much as possible. We would like to ask all family and friends to be extra careful when visiting your loved ones in the care village during this potentially difficult time.
The outdoor and indoor visitor pods continue to be fully utilised We will continue to contact those families we feel could make the best use of this facility and please feel free to continue to contact us to book in a visit.
With the weather being kind to us, we are still able to continue with outside activities, and encouraging the residents into the communal areas as much as possible.
Most of the residents are getting back to the dining rooms to enjoy meals with fellow residents doing some socialising, whilst keeping safe distances, with their friends within the care home. We have been putting pictures on our website to give you, as families, an insight into how the whole staff team are pulling together to ensure your relatives make the most of their time with us.
We are planning to re-open the coffee shop by popular demand in the week commencing 12th October and we have installed two new garden pavilions to provide more outdoor eating areas so that Covid social distancing can be maintained and we have put in additional designated coffee shop parking.
Thank you all for your continued support and as always, we will keep you updated with any further developments.
---
UPDATE – 5th August 2020
Dear Family and Friends
We wish to advise you that we remain Covid free and are continuing with weekly testing of the staff team and monthly testing of residents.
As lock down measures have been eased and infection rates have remained low in our area, we have been making the most of the good weather by arranging more outside activities and socialising, whilst keeping safe distances, with their friends within the care home. We have been putting pictures on our website to give you as families, an insight into how the whole staff team are pulling together to ensure your relatives to make the most of their time with us.
The outdoor visitor pods continue to be fully utilised and the first of our inside pods is now available for booking for those residents who currently would have difficulty using the outdoor spaces or are having difficulty with hearing their relatives outdoors. The indoor pod has a full height glass wall but also has the use of a telephone to enable easier communication, whilst still maintaining the safety of our resident. We will contact those families we feel could make the best use of this facility.
We would like to inform you that Simon Blake has resigned as Registered manager of Carlton Hall. Simon has been struggling with some personal issues for some time and has decided to resign from his position.
Our existing Managing Director, Tony Prendergast, whom many of you will already know, has taken over as Registered Manager until a suitable replacement can be recruited. Tony will have the full support of Sally Stubbs, the Finance Director and the management team.
Together, we will ensure that the existing high level of care and attention given to your relatives is maintained, and we will continue with our strive for excellence.
Thank you again for all your kind words of support during these difficult few months and we will keep you updated with any further developments.
Kind Regards
Tony Prendergast and the Management Team
---
Dear Family and Friends
As you will be aware Matt Hancock today issued guidance in relation to Care Home visiting. It provides guidance whilst also requiring local authorities to complete individual risk assessments prior to visiting being considered. The document sets out the many factors to be considered by Care Homes before enabling any changes to visiting Policies.
The full guidance can be found at the following link:
https://www.gov.uk/government/publications/visiting-care-homes-during-coronavirus/update-on-policies-for-visiting-arrangements-in-care-homes
You will see that many of the options highlighted we have already put in place in regards to
Garden Visits – already in place by use of our garden pods with under cover visiting behind purpose built protective screens
Drive-thru events – already in place with many successful visits to date for both care home residents and bungalow residents
In Room Visits – for end of life care – already in place with use of appropriate PPE
Designated areas within a care setting – advice states these must be reserved for this purpose, facilitate good ventilation, social distancing and ease of access by residents and limits journeys through resident areas – we have two internal visitor pods currently being finalised and we expect the first one to be available next week with the next following within a couple of weeks after that.
The Guidance continues to urge actions that reduce the risk of cross-infection but for that to be based on Community Risk Assessment and individual resident risk assessment as well as how both link to the wider risk assessment of the wider resident group of who a large percentage will remain within the extremely vulnerable group.
Therefore over the coming weeks we will be liaising with the wider authorities in line with the Guidance, reviewing our current Policy as to whether anything needs or can be changed as well as entering into wider discussions with residents and families as to individual needs versus increased risk of cross infection.
We continue to test all staff weekly and residents monthly and provide PPE for staff for use within the care setting and outside.
We will also be bringing the Care Home into a restricted zone as the grounds are opened for the Bungalow residents and the gate is no longer manned as of Monday 27th July 2020 as shown on the map below.
All deliveries for the residents of the Care Home are to be left on the racks under the Gazebo outside Bungalow 4 as highlighted on the map. These need to be in a clearly labelled sealed bag. Entry into the restricted area outlined on the Map will only be by appointment only ie Pod visit and we ask that you continue to meet the new requirements as they are designed to ensure ongoing reduction of risk to the very vulnerable residents in the Care Home.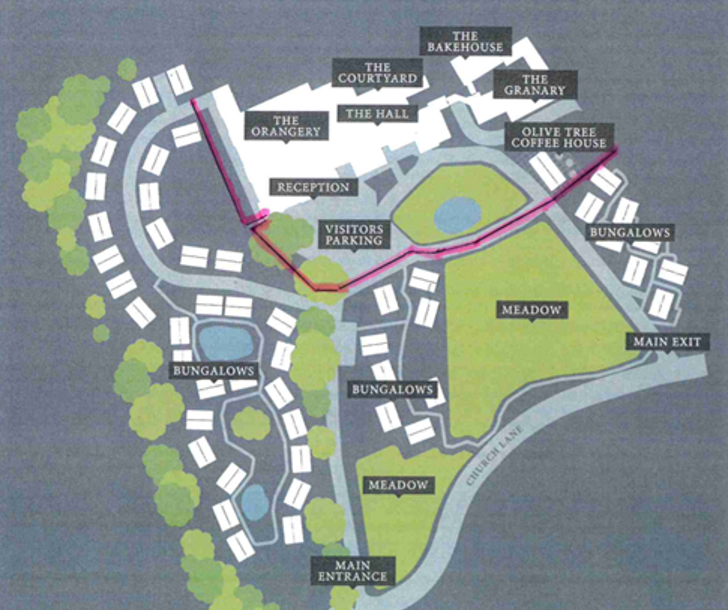 Thank you for your ongoing understanding.
Directors and Management
---
UPDATE – 16th July 2020
Good afternoon Bungalow Residents and Family Members
Firstly, we would like to thank you all for your patience, understanding and assistance shown over the last four months which we understand has been a very difficult time for all.
Having lifted the restriction for Bungalow residents to leave the grounds from the start of July, we are pleased to advise that from 1st August 2020 the following changes will take place:
Bungalow residents will be able to invite visitors to their bungalows. We emphasise the importance of compliance with Government Guidelines. The pods at the front entrance can still be used freely by bungalow residents preferring to see visitors outside of their home.
The gate will no longer be manned
However, the following requirements are highlighted:
All bungalow residents, and ANY visitors, are required to wear a face mask/covering at all times whilst in the grounds of Carlton Hall, and should cover both the nose and the mouth area. Sanitiser is available at the gate and we request all visitors use on arrival
Visitors are to park in bungalow designated areas only, not in the main car park, as this is within the restricted area as outlined on the map below. The main car park area is designated to the Hall, due to the Care Home remaining in a shielded state.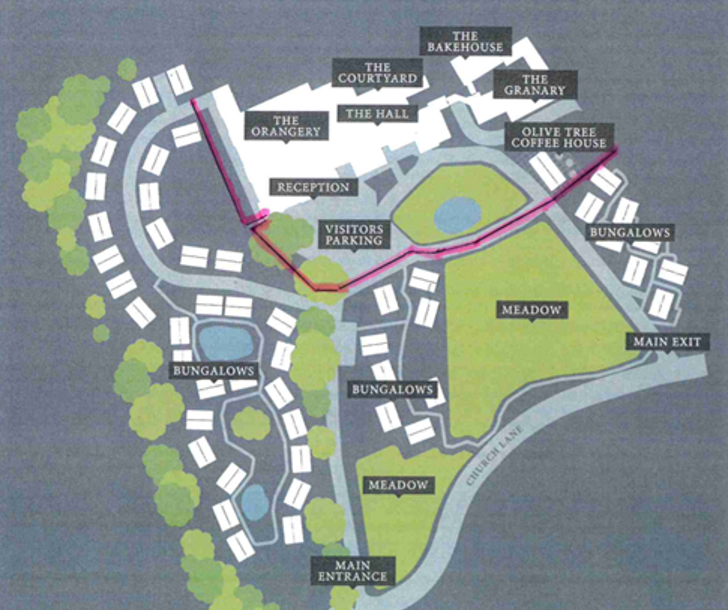 Visitors are to park near to the bungalow they are visiting and proceed directly to the relevant bungalow and return directly to their vehicle when they depart.  Visitors are not permitted to walk within the grounds.
The Bungalow residents' benefit from the link to the Care Home, in that ALL staff are now being tested weekly, this not 'the norm' within domiciliary care. The well-being of the Bungalow residents has always been at the forefront of any decisions we have made, alongside the well-being of the residents in the home, and we are able to offer the following and strongly request your agreement:
You take your temperatures twice a day, in line with best practice within a care setting, and advise us of any concerns. We can provide a thermometer if required.
You participate in monthly Covid 19 testing, providing we can maintain the testing equipment. This will be communicated to you well in advance.
Moving forward, we are all hopeful that the situation will be maintained, and hopefully continue to improve. However, you will have heard of the concerns surrounding possible future spikes, a new wave and local lock downs, as being a potential future as we move towards Autumn and Winter.
In line with this we will view the site as a micro-community. As such if we become aware of any suspected or confirmed cases, within the residents and staff of either the Bungalows or Care Home, we would potentially re-introduce measures as required in line with Best Practice and Public Health advice. This would include restricting visitors, limiting movement on the site through to complete lock down. Clearly this is the last thing we wish to do, but as we are sure you will agree our success, compared to some services, is linked to our past approaches.
We would also re-emphasise the importance that if you are contacted via the Track and Trace system that you notify us immediately, for the well-being of all the residents.
It's been a very hard few months for everyone involved and we dearly wish for a return to normality. In the meantime, Keep Safe and enjoy Summer safely.
Directors and Management
---
UPDATE – 6th July 2020
Hello families and friends
Thank you to those that attended the recent Drive Thru event, and braved some slightly inclement weather! However, the smiles from the residents brightened the somewhat dark skies. A member of our team took a short video of one on the visits, it features a few residents and their families. It was so lovely we would like to put it on our website and social media. Could I ask would anybody object to this? Could you email office@carltonhall.co.uk with any objections.
As we enter the next stage of lock down and easing in the wider society, Carlton Hall has now opened the site for residents of the bungalows to access the wider community. At the same time we have designated separate garden areas for the Care Home residents to use as they remain within the shielded group due to their level of vulnerability. Bungalow residents have the facility to meet with visitors at a designated pod area at the front of the site by appointment only.
We have also implemented a Policy whereby all bungalow residents and visitors to the site have to wear a face covering at all times, within the grounds, and we continue to support a 2 metre social distancing Policy.
Staff are undergoing the second round of testing on 8th and 9tt July. You might have heard that the Government are seeking to move to weekly testing for Care Homes Staff, we will keep you updated as to how that progresses.
We have started trialing the use of visitor pods for the Care Home in various forms to include Gazebos and a newly built porch so visitors can meet residents individually with protective screens. We will be looking to fully commence these from the 20th July 2020 between the following times
7 days per week from 10am – 12pm and 2pm – 4pm
Each session will be a maximum of 30 minutes and they will need to be booked directly with reception Monday to Friday 9-5 three days prior to the visit. We cannot take 'block bookings' for visits, however, we will allow this for married couples.
Initially we will limit visits to one visit per resident per week to allow us to understand the impact on staffing and also to ensure equity among the residents.
We will be organising additional 'Drive Thru' events and, of course, resident birthday visits are an additional opportunity.
As you can appreciate, this is new to us all and we are working hard to maintain everyone's safety whilst maximizing contact where possible.
If you would like to book a pod visit please email office@carltonhall.co.uk and specify a preferred date or time, we endeavour to accommodate your request and confirm by email.
Thank you for your continued support
Management and Directors
---
UPDATE – 5th June 2020
Hello families and friends
Well what a wonderful couple of days was had by all for the Drive Thru event. The residents had such a wonderful time and thank you for your kind words of appreciation on the day and also via numerous messages.
We are pleased to confirm that the Service remains Covid-19 free and whilst we have had a couple of precautionary lock downs on a couple of units in the last week to mitigate a potential risk I'm pleased to say that all was ok. Our success has been down to the approaches we have taken in ensuring people are kept as safe as possible at all times.
We will be organising two further drive thrus as follows:
Fathers only events – 21st June
Purely for children to visit Dads on Fathers day (Dads will be the only ones in attendance)
Drive Thru weekend – 27th and 28th June as follows:
Hall – Saturday 11 -12
Bungalows – Saturday 1.00-2.00
Orangery Saturday 3.30-4.30
Courtyard – Sunday 11-12
Bungalows – Sunday 1.00 -2.00
Granary – Sunday 3.30-4.30
Same applies as per last event in that a maximum of two cars per person.
Please book both events by email to office@carltonhall.co.uk setting out the following:
Name of resident visiting
Which time are you visiting
Registration Numbers of cars
By the 17th June at the latest. We will not be able to agree any other cars beyond this time I'm afraid to ensure a smooth process.
We continue to do additional individual drive thrus for any birthdays or wedding anniversaries so please do email Wendy at office@carltonhall.co.uk in regards to this.
We are progressing the concept of visiting pods in the gardens and one within the home for use in July at some stage and will keep you informed.
Thank you once again for your understanding and support
Management and Directors
---
UPDATE – 19th May 2020
Hello Relatives and Friends
Thank you for the ongoing understanding and support you have given to us, as a Care Home, during this difficult time. It is very much appreciated by everybody. We are delighted to report, that following the testing of all residents in the Bungalows and Care Home, we are Covid free.
At present we are unable to test staff without symptoms. However, we will continue have staff tested, that show symptoms and they will then self-isolate.
We have had a great response to the 'Drive thru' scheduled for 30th and 31st May. Just a reminder to email requests to us before 25th May 2020. We are looking forward to this event, I'm sure it will be a great boost to both residents and relatives.
An additional element we will be introducing, with immediate effect, is the option of an individual Drive thru visit on a resident's birthday. As with the forthcoming Drive thru event, the same rules will apply and the request will need to be made one week in advance of the visit, with a maximum of two cars. We will make an allowance for birthdays that fall within the next week. Feel free to decorate the cars accordingly.
You can organise delivery of cards and presents prior to the visit in line with the quarantine rules so they can be opened by the resident when you visit.
Requests are to be made by email to office@carltonhall.co.uk
We are looking forward to a musical event tomorrow afternoon in the grounds, with cakes and ice creams for the residents. We will be holding two separate groups, maintaining a distance of over two metres.
We will continue to develop activities to maintain residents emotional and psychological well-being, whilst maintaining the health and safety of the residents and the staff, as we have succeeded to this point.
Management and Directors
---
Drive Through Visiting Event
We will be trialling an initial drive through visiting scheme at Carlton Hall on the following weekend:
Saturday 30th May
11:00 – 12:00 Hall residents 13:00 – 14:00 Bungalow residents 15:30 – 16:30 Orangery residents
Sunday 31st May
11:00 – 12:00 Courtyard Residents 13:00 – 14:00 Bungalow residents 15:30 – 16:30 Granary residents
To access, you will be required to submit an email request to office@carltonhall.co.uk by 25th May 2020, with details of the car registrations, you will then be allocated a specific time slot to arrive.
Each resident can have a maximum of two vehicles to visit, and must arrive at the same time. Please arrive at the main entrance, you will then be given directions, which may require you parking in a bay for a short time, before being directed to your family member.
You will have approximately 10 mins where you will be able to pull up and chat with your relative/friend. We will do our best to allow privacy, but this may be difficult so please understand this.
The following rules will apply:
you must comply with Government guidelines re only household members travelling in one care
the car window can be open as the residents will be behind a designated area
You must not bring any items to be passed to the residents
you must remain in your vehicle whilst you are within the grounds of Carlton Hall.
We fully appreciate that you would like to spend longer with your family, but on this first visit we will have so many residents wishing to receive visits, that we must limit time to enable all residents to receive a visit. To manage the logistics safely and efficiently, and ensure the safety of our residents and staff, it is necessary to give allocated time slots. We ask for your patience and understanding, with our first 'drive through', we are sure you will appreciate the impact on staffing an event of this nature will have.
We look forward to hearing from you
Management and Directors
---
UPDATE – 7th May 2020
Dear Family and Friends
Well spring has definitely sprung and it feels as if we are slowly moving forward in small steps. The Government has begun the process of beginning to discuss how the Country wide lock-down may start to be slowly eased over the coming weeks and indeed months in some sectors of life.
This is good news and we are pleased to highlight that we have no cases on site, although we had to implement complete isolation for a short period last week in two of the units following a member of staff falling ill whilst on duty. They were subsequently tested and found to be negative which was great news but shows how important it is that we maintain the approach and vigilance that has got us to this stage. We have had only one case and the resident has fully recovered, no spread to other residents or staff and no deaths thankfully. However we have to remember that there have been numerous cases and sadly deaths in homes in the local area, so we cannot become complacent.
We have issued a separate statement on our website regarding our status of PPE, and this continues to be a major issue for both the NHS and Social Care Sector, but we are continuing to source this from numerous outlets to ensure we keep the PPE levels at our minimum standards which is above the Government recommended levels.
In reality as the lock-down starts to lift in wider society, the risk to the residents in the village will increase due to wider social mixing. As such, we will for the time-being, maintain the current policies in place, which whilst hard for all concerned has been the reason as to why we have remained relatively clear of the virus for so long and we do not want to do anything that could jeopardize this. How long this continues in reality will depend on how the infection numbers in the wider community fair under partial relaxation of the lock down, but we will for the safety of our residents and staff always err on the side of caution.
We are shortly looking to open up a facility within the coffee shop whereby relatives will be able to visit their loved ones via use of a separated booth, being able to see their relative whilst still maintaining the safety of the residents from cross infection. With the potential of asymptomatic individuals ie those that show no signs whatsoever, any increase in contact increases the chance for infection not just to your relatives but to the rest of the residents as well. This will be on a pre-booked basis for a 20 minute period. Whilst we realise many would prefer a longer time, we wish initially to get as many residents seen by their relatives as possible, so logistically, we hope you understand that the initial meeting will need to be limited to 20 mins.
We are also looking at the potential of relatives using enhanced PPE to include gowns, gloves and masks to enable relatives to spend time with their loved ones in the grounds and gardens as the weather improves. However, with the current pressure on PPE supplies, I am sure you will understand that this option may be limited but we will come back to you in the near future in regards to these options and the implications.
We are extremely mindful as to the impact on everybody's emotional and wider mental health well-being with the ongoing restrictions remaining in place and we would welcome any suggestions from relatives that we could consider but preservation of life must prevail in any scenario.
In reality we need to be honest and highlight that until a vaccine is available, the risk to the residents remains high and poses ongoing risk to life if we do not maintain our approach, vigilance and determination to do all that we can.
Thank you for all the lovely messages of support we have received so far. As you may have seen on the website, we have started the 'Thank You Heart' for messages to staff from yourselves and others, which has already had such an impact on our staff whom we are extremely proud to call part of our wider Carlton Hall family. Please do keep your messages of support coming.
The following is written by Jo Edy, Unit Leader on the Courtyard and is a poem we would like to share with you that reflects all of the carers thoughts
My promise to you whilst you can't be here,
is to care for your loved one you love so dear
To tell them every day your not far away
and ensure they are loved in every way
To read them the letter you lovingly wrote
or show them the photo on which they will dote
I promise to hold their hand when they miss your touch
or give them a hug when they miss you so much
So a promise to you I will carry it through
to love your family member especially for you
As always we continue to appreciate your support and assure of our ongoing commitment to the care of your loved ones.
Keep safe
Management and Directors
---
UPDATE – 30th April 2020
Personal Protective Equipment
PPE in Carlton Hall Care Village
We have been asked many times whether we have enough and the right kind of PPE in our Care Village, especially since all the recent stories in the press.
Like all Care Homes across the country, and indeed globally, we have found it difficult to source PPE in the quantities that we need and equipment that gives us the right amount of protection when dealing with contagion.
At Carlton Hall, the safety of our residents and staff, as well as the community, is of paramount importance. The amount of PPE supplied by the Government is insufficient and intermittent. If we suffer any suspected or actual Covid cases within the home or the bungalows, our usual usage of PPE would increase to 5500 items of each piece of PPE per week against a Government supply of 300 – 1500 at most. Consequently, as a company, we have had to supplement the supply to a considerable degree. In addition to the cost, which continues to escalate as the weeks progress, we have the equivalent of at least two members of staff working full time on just sourcing and purchasing PPE equipment to ensure the required level of PPE is obtained. We assure you we will maintain this effort to continue to have the correct levels of PPE.
We have also had kind donations of PPE from businesses plus a whole band of volunteer makers, using donated materials, to make further PPE supplies. We are eternally grateful for this ongoing and much needed support.
PPE includes Masks, Visors, Gloves, Scrubs, Surgical Gowns, Face Shields, Sanitisers and thermometers, as well as all our normal cleaning equipment.
On behalf of our 170 Staff and 140 Residents, we would like to thank all those who have given us advice, equipment, materials and/or their valuable time.
Thank you, stay safe, keep well and best wishes from everyone at Carlton Hall!
---
UPDATE – 27th April 2020
Dear Family and Friends
We hope you are keeping well and safe as all of society enters another period of lock down.
Carlton Hall as you know has now been in lock down since the 19th of March which was designed to be proactive in maintaining the safety of the residents in the Care Home and Bungalows as much as possible.
Alongside the lock down to external visitors you will be aware of the range of actions we have taken at various times including asking the residents in the Care Home to remain in their rooms if there was any increased risk.
The approach we have taken including isolation into bedrooms, whilst having been difficult for the residents and staff, has shown real benefit over the last week as we had a confirmed case of Covid-19 with one of the residents. We already had this resident in isolation following some concerns shown and were monitoring her closely. We subsequently admitted her to hospital where she tested positive for Covid-19. The resident has remained in hospital for 7 days and we are pleased to say that she is doing well and looks on the way to recovery which is great news.
We sent 12 staff home to self-isolate who had been in contact with this resident over the preceding few days, as a precaution, and most of them have not shown any subsequent symptoms. Those that had, were tested and have come back negative. We have had five other residents tested as a precaution following slightly raised temperatures, which we monitor twice daily for all residents, and they too have all come back negative.
Alongside this, we have had 3 residents admitted to hospital for unrelated reasons but on their return we implemented additional isolation procedures for them for an additional 7 days.
We had a member of staff test positive in an unrelated case. The staff member was self-isolating in line with our procedures re temp checking and by having a test we were able to gain confirmation and take the relevant actions to prevent any spread within the home. We are pleased to say she is now recovering well and looking forward to returning to work when she is able.
So whilst it has been a very difficult and worrying week, we are pleased to stress that we feel that the procedures we have implemented have not only kept any infection coming into the home at a minimum but when it has, we have maintained the mitigation approach of prevention of any further cross infection to other residents for the required 7 days in line with government advice.
It is clear that the actions we have taken so far have worked well in regard to prevention and mitigation so whilst we are very aware of the challenges the residents and yourselves are facing with the isolation and separation, it is clear we must continue this approach for the foreseeable future. As such we are starting to look at ways of how we can enable visits in the future that would continue to maintain the same level of safety for the residents and will come back to you in the next couple of weeks with our thoughts.
We are now able to have staff and residents tested on any symptoms being shown and thanks to the hard work, determination and sheer stubbornness of members of our team we have maintained the required level of PPE. You will have seen on our Website and Facebook page the wonderful donations and imagination used in developing alternatives to some 'hard to get' PPE items.
Last but by no means least, we continue to be indebted to our wonderful staff team and volunteers who have faced numerous challenges head on with determination, compassion for others and simple cheerfulness that has enabled us all as the Carlton Hall Family to remain well.
Thank you all again for your kind messages of support, understanding with the pressures being faced by the staff team and how you are dealing with being separated from your loved ones. We continue to do all we can in these trying times.
Management and Directors
Carlton Hall
---
UPDATE – 20th April 2020
Dear Family and Friends
We hope you had an enjoyable Easter with all the restrictions and understandable concerns being faced at this very difficult time.
There has, of course, been a great deal of press coverage around the situation within Care Homes over the last few days. This can be seen as a positive in that the Government is now giving greater priority to the needs within the Social Care Sector, ranging from testing and provision of PPE.
We have always been transparent with yourselves throughout this process and we are frustrated with the lack of testing within Care Homes and for Social Care staff. We are aware that there are discussions around introducing a drive though facility, within the local area, which Care staff will be able to access. Hopefully, this will be introduced sooner rather than later. There is also a need to test any suspected cases within care homes, which isn't currently happening. The provision of PPE from Government sources has also been extremely limited, but they have now started to set up local distribution centres which will in time provide some products to Care Homes.
We are pleased to confirm that we do not have any confirmed cases of Covid 19 within Carlton Hall. We believe that this is due to the proactive approach and the preparation and actions we have taken. We have already purchased, a reasonable supply of PPE and will continue to do so to maintain this supply as we move forward. We will continue our robust approach, aimed at keeping the Virus away from our home.
We continue to
take temperatures of everybody entering the home,
quarantining all deliveries for 3 days,
refusing to accept anyone back from hospital without a Covid-19 test prior to discharge
anyone that returns from hospital or new admissions would be in self isolation for 7-14 days
We are now implementing the following actions
all staff will wear masks when interacting with residents – this is to assist in the reduction of the risk of transmission from staff to residents
we have set up several quarantine bungalows partitioned off within the grounds. We can transfer residents that are showing symptoms, if it is decided they are not to go into hospital. This allows staff to manage these situations by having an easier environment and a level of PPE that exceeds the current Government requirements, whilst at the same time dramatically reducing the risk of cross contamination to other residents, and also allow more individual care to those residents within the isolation bungalows.
The above actions are designed to protect our residents and staff, to the best of our ability, within the Care Home and the Bungalows within the Village.
We continue to encourage as much social interaction as possible, by using our lovely gardens and organising small groups in communal areas, whilst maintaining rules of social distancing. It is of course, impacting people's emotional well-being, but this is the same for yourselves and every member of society. Please be assured our fabulous staff team are doing all they can to support your loved ones in all aspects of care that is needed whether that is physical or emotional support.
We have been able to maintain the same level of staffing, thanks to the actions we took prior to this impacting, and thanks to the staff that are available to pick up any shortfall in hours and working extra. We remain incredibly thankful to our team and the level of commitment they have shown at what is a challenging time for everyone.
Thank you again for your ongoing support and understanding
Directors and Management
Carlton Hall
---
UPDATE – 6th April 2020
Dear Family and Friends
Another week has passed and we are pleased to say that we currently have no identified cases of Covid-19 in the home. We realise the actions we have taken are having an impact on both the residents, and yourselves. However, we remain confident that the approach we are taking is based on ensuring safety for, and in best interests of, the residents in our care.
Thank you for working with us in regards to the delivery timescales and ask that you continue with this. The days are Monday, Wednesday and Saturday 8.30 am -10.30 am with fortnightly deliveries wherever possible.
We currently have 27 staff off, either self-isolating or having to take 12 weeks off, on the recommendation of their own health professionals. We are managing thanks to our fantastic team of staff that includes the carers, activity staff, domestics, catering/coffee shop staff, admin, maintenance and gardening team, who are all stepping up to face this challenge with one desire, to protect those we care for at Carlton Hall. We have currently cancelled annual leave, and we are providing required staffing levels by the wider staff team covering any shortfall.
We have detailed procedures in place to deal with any potential outbreaks of symptoms or confirmed cases of Covid-19. Our first and most important line of defence is to do all we can to prevent the virus entering the home. If it does, then we will look to prevent any further outbreaks by use of isolation together with the guidelines laid down by the national bodies. The procedures we have already put in place and those we have ready to use if necessary are above those that we received from central government this week as we continue to do everything we can to protect our residents and staff.
We, like all Social Care Providers struggled to obtain the appropriate levels of PPE but we do have the supplies to deal with any initial outbreak and now continue to source any potential stock by many different means to ensure this supply is maintained. If you or any contacts you may have are able to assist in the provision we would be delighted to hear from you.
Whilst the residents are continuing to self-isolate, in line with Government Policy, and we are free of any cases, we are facilitating regular exercise for the residents as well as organising small groups of residents meeting in the communal areas for either morning coffee, to watch a film or afternoon tea. These groups are fully compliant with social distancing guidelines.
We would ask for your continued understanding in only contacting your family member/friend by phone (unless it is their own line) once a week. The time taken in answering the call, taking the phone to the resident, retrieving it, is of course impacting on the staffs ability to provide the essential care at a time of increased demand and restriction on staffing levels.
With Easter next weekend, this would normally be a time for family 'get togethers', we understand the upset and anxiety of not being able to can cause. We will continue to maximise use of social media so that you receive a call/video message over the Easter period and thank you again for your understanding. Another idea which is working well is to email us on office@carltonhall.co.uk with any letters/photos to your loved ones as these can be printed out and given to them and so are easier and much quicker than post as they do not need to be quarantined for three days.
Lastly we would also like to take this opportunity to publicly thank our fantastic staff team who have shown strength of character, resilience and commitment, at a time of real concern and anxiety within society, they haven't waivered in their commitment to your loved ones.
Kind regards
Directors and Management
---
UPDATE – 27th March 2020
Dear Family and Friends
Firstly, can we thank you for your understanding, patience and support you have shown over the last few weeks to what has been an extraordinary set of circumstances that the residents, yourselves, the home and the wider society has had to face.
Each day seems to present additional challenges and as such things never stand still but we are continually reviewing our procedures to keep pace with these and working hard to maintain deliveries, calls and wider contacting process.
This week we have had to implement the next stage of our protocols resulting in residents having to stay in their rooms due to a resident showing some symptoms that could have been Covid-19. It now seems likely that these were just linked to other health issues, their temperature has quickly returned to normal and the medical professionals confirmed that the person didn't reach the criteria of requiring testing. However, as an additional precaution we have left the escalated protocol in place for a short period.
All residents continue to have daily attention from their care and support staff and in addition, the activity staff are undertaking walks out with the residents to ensure their physical/emotional well-being is maintained as best as possible in these very difficult circumstances.
This incident acted as a good practice for situations that may escalate in the future and as a company we were pleased to see that the protocols we have put in place worked extremely well. We had already been very proactive in obtaining the required Personal Protective Equipment (PPE) in case of an incident and we were commended by the Ambulance crew that attended for the procedures undertaken and the level of PPE that we had put in place.
We continue to do all we can to look after your loved ones and once again thank you for your understanding and co-operation.
Directors and Management
Carlton Hall
---
UPDATE – IMPLEMENTATION OF STAGE 3
Due to an escalation of suspected cases or individuals starting to self isolate the decision has been taken to close the site as of 4pm today (Thursday 19th March).
We hope you understand that whilst we would have liked to have kept open till Sunday this is now not possible.
We will be setting up Skype and telephone protocols over the next few days and we would ask for your patience.
We will keep you updated, be transparent in our approach and facilitate social contact as much as we are able to.
---
UPDATE – IMPLEMENTATION OF STAGE 3
As we enter the next stage of the Corona virus pandemic, it has become necessary to escalate our procedures to protect the well-being of our residents, your family.
Starting from Monday 23rd March 2020 we have taken the decision to lock down Carlton Hall Care Village. This will include closure of the Olive Tree Coffee House and confine the bungalow residents to the Carlton Hall Village site. The current restrictions on visiting 10am-4pm remains in force ending at 4pm on Sunday 22nd March 2020.
However during the next few days we would ask that you only visit if it is for an essential reason and if not then not to attend the site.
To protect life, we will be limiting access to the home, the only exception will be Staff, Clinicians and essential deliveries. This means you will not be permitted to visit your relative. We will be introducing Skype to allow you to see and interact with your family. You can also speak to them on the phone. Further information booking Skype calls and times for phone calls will follow in the next few days.
We will be increasing our hand sanitisers around the home, to minimise the spread of infection. We are training all support staff to enable them to assist in the home, should this become necessary. Staff attending the site will have to make daily declarations regarding themselves, and their families health and be temperature checked prior to entering the service.
From Monday 23rd March 2020 we will monitor all visitors to the site at the main entrance gate. The gate will be manned between the hours of 0645 and 2215, all other gates will remain locked. As bungalow residents will also be in lock down, they will be permitted to visit their family members in the Hall. Should a bungalow resident decide to leave the site against, our strong recommendation, they will be required to self-isolate for seven days in their bungalow, on their return.
We will continue to take advice from the Government and Healthcare professionals. Please be assured that we will endeavour to protect your family from Covid-19 to the best of our ability. This will be a very difficult time for residents, relatives and the wider staff team. We ask for your support and understanding in the decisions we have made, in the interests of preserving life of some of the communities most vulnerable citizens.
Your sincerely
Directors and Management
---
UPDATE – IMPLEMENTATION OF STAGE 2
As the Corona Virus has now begun to spread, we do NOT have any cases within our residents or staff team, however as a precaution for our residents we are starting to implement stage 2 of our protocol as follows:
Please be aware that with effect from Monday 16th March we are now:
Restricting all visitors to the home between the hours of 10am-4pm each day.
All visitors need to report to the main reception in the Orangery to be checked in. Please note that the access code to the other areas of the home have been changed so visitors cannot enter without first checking in at Orangery reception.
All visitors to the home that require access beyond the Main Reception to complete a simple questionnaire based on 111 guidance.
All visitors to the care home are required to use the hand sanitisers in the reception before proceeding into the care home.
The protocol will be progressed to further stages entailing further requirements or restrictions if and when the virus spreads. Each time we escalate we will inform residents and their families if any of the new requirements or procedures directly affect them. These may include further restrictions, temperature tests on entry to site, restricting movements between different areas of the site and care home and so on.
We all hope that these later stages will not be required but we have to be prepared just in case and we hope that you will be reassured that if matters do escalate with this virus then we are ready to escalate our plan of action accordingly.
Yours Sincerely
Directors and Management
---
Carlton Hall Care Village is presently free of Coronavirus.
However in the interest of, our residents' well-being, Carlton Hall has drawn up, in conjunction with the NHS guidelines, a four stage protocol plan to deal as best as possible with any escalation of this virus outbreak.
Stage 1 of this protocol has already been instigated and includes requirements such as:
Increased stock of sanitiser products and related protection garments
Staff requirement to wash hands every half an hour
All visitors to the care home are asked to use the hand sanitisers in each of the receptions before proceeding into the care home
Increased supply of certain food stocks
The protocol will be progressed to further stages entailing further requirements or restrictions if and when the virus spreads.
Each time we escalate we will inform residents and their families if any of the new requirements or procedures directly affect them such as reduced visiting hours, temperature tests on entry to site, restricting movements between different areas of the site and care home and so on.
We all hope that these later stages will not be required but we have to be prepared just in case and we hope that you will be reassured that if matters do escalate with this virus then we are ready to escalate our plan of action accordingly.
Yours Sincerely
Directors and Management